Milanese
Milanese has been operating since 1953. They produce a wide range of fish farming and aquaculture equipment, exporting to 40 different countries throughout the world.
They specialise in Fish pumps, Graders and counters. Milanese has all your equipment requirements covered to manage the stock in your farm.
Many fry producers have chosen to use Milanese equipment because of its accuracy for grading fish under 1g , and with its small dimensions and weight making it easy to handle.
All Milanese equipment is suitable for fresh and salt water applications.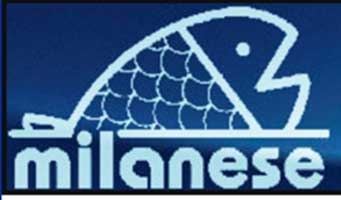 Aquaculture fish pump 
Vacuum fish pump for smolts, fry, little and large fish. Has a centrifuge body in anticorrosive aluminium. Self priming, electronic inverter to change motor speed. Assembled on stainless steel trolley with wheels. Equipped with all accessories. Remote control available upon request.
FISH GRADERS
Aquaculture fish grader
Alpha
This is a grader with revolving rollers suitable for fries, little trouts, salmons, sea bream etc. from. gr. 0 to gr. 50. Body, rollers and frame are built in stainless steel. There are three wheels and a shaft to move the equipment all over the fish farm. With the special device placed on one side of the grader is possible to adjust the rollers and the bottom to obtain three different selections on the length of the roller.

Giant
Standard, Giant and Giant 6 lines are trout and salmon graders with revolving rollers. They have a stainless steel body built on a hot galvanised frame (at request, also the frame is in stainless steel) with wheels and shaft to move the machine all over the fish farm (using a farm tractor if needed). On one side there are special devices to adjust the rollers and the bottom to obtain three different sizes of fish. The fishes are selected with great precision. The grader is equipped with a self-priming water pump sucking water to the grader to keep the fishes alive and sliding in the discharging hoses. Completed with electric panel and accessories
This kind of grader is very silent, accurate and fast. Suitable for fishes from 20g to 1000g
and it is supplied complete of all accessories. Optional Stainless steel frame.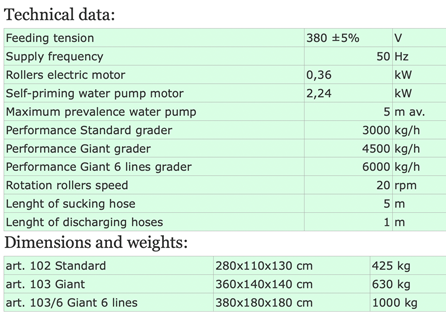 Request price and more information.