SENECT Aquaculture Drum Filter
Microscreen drum filter
▪ Fully automatised particle filter system
▪ With pipe connections (tank version) or as open-channel version
▪ For flow rates of 5 to 300 l / s respectively 18 – 1000 m3 / hour at 20 mg / l total suspended solids (TSS)
▪ 60 µm stainless steel filter mesh (more mesh sizes and types available)
▪ Including intelligent FILTER|CONTROL unit, variable frequency drive and spray pump
▪ Online-access via internet and alarming on smartphone, tablet or PC
▪ Customisation possible.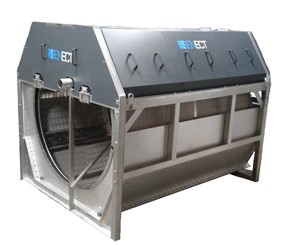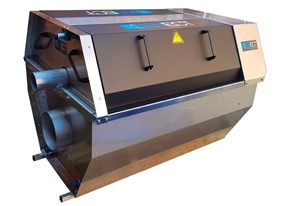 Drum filter for the toughest aquaculture applications.
Micro screen drum filters are regarded as the state-of-the-art particle filtration technology in aquaculture applications. The main advantages of this technology are the fully automatised removal of solid waste – not only capturing the particles with manual backwashing – and the well-proven mechanical base design which makes drum filters ideal for applications with high flow rates.
The principle of particle filtration of drum filters is based on the mechanical trapping of particles. The water, loaded with suspended solids flows through the filter screen, where the particles are trapped. The control unit detects the clogging of the filter mesh and activates the backwashing process to clean the filter mesh and wash the dirt particles into the waste water outlet.
The SENECT aquaculture drum filters are especially designed to fit to the needs in the aquaculture sector. Therefore, the major aims behind the developlment of this filter series are:
Minimized maintenance
Minimized water- and energy-consumption
Bearing this in mind, the engineers of SENECT created a series of drum filters which inspire by their thoughtful construction, the excellent manufacturer quality and the perfect fitting controller. Some the advantages include the clever drive system or the robust frame construction as well as the water- and energy-saving intelligent control unit.
Thanks to these advantages, the SENECT aquaculture drum filters offer high-efficient filtration with minimum manual maintenance.
Request price and more information.